What is FPGA prototyping?
FPGA prototyping is a proven technique for verifying the functionality and performance of application-specific integrated circuits (ASICs), application-specific standard products (ASSPs), and systems-on-chip (SoCs) by porting RTL to field-programmable gate arrays (FPGAs).
It is more widely used today due to the increasing complexity of the hardware and the increasing amount of associated software that needs to be verified.
Why was FPGA Prototyping Used?
Early chip developers who wanted to verify that the chip's design matched their preconceived ideas had to wait for extremely long simulation results. Once the results were not as expected, the cost of either simulating again or flowing the chip a second time would be extremely high. Therefore, when Xilinx and Altera launched the field-programmable logic gate array (FPGA), developers could use FPGA boards to cobble together an effective process to verify the design, and the FPGA prototyping solution came into being. This is a cheaper and faster way to check the validity of a design than emulation.
As the scale of SoC/ASIC design continues to increase and the structure becomes more complex, it's necessary to make the verification and development of system software and pre-submission verification in parallel, which makes the advantages of the prototype verification highlights developed a mainstream and mature chip verification methods.
BYO vs Commercial Solution
According to many companies have their internal hardware design departments, and many of them would like to directly purchase FPGA boards from Xilinx or Intel, and design and develop their own FPGA platforms.
However, this self-developed prototyping platform has some drawbacks, specifically in:
1. Limitations on the number of FPGAs: Cascading multiple boards is a very cumbersome process that requires a high level of engineers
2. Difficulty in automating partitioning: Design partition (Partition) can only be manually divided, and need to have a wealth of experience in the development of people to improve the success rate
3. Board debugging can only use the debugging tools provided by the FPGA chip supplier for single FPGA debugging.
4. Required daughter cards can only be developed by themselves.
Compared to self-developed prototyping platforms, Prototyping system provides corresponding software and interface solutions in the form of a desktop, improving verification efficiency with a mature prototyping solution
For Project Requirements:
1. Prototyping system authentically achieves full-chip verification, which meets the basic demand of clients
2. Faced with long-term and durable hardware stress tests, the prototyping system demonstrates the feature of stability and reliability
For Software Development Team:
1. Prototyping system helps software development start on the platform as soon as possible, which undoubtedly accelerates the time-to-market
2. The software verified on the system can be quickly ported to the real chip
3. Industrial-leading performance meets the needs of software operation and testing
For FPGA Realization Team:
1. Prototyping system provides RTL Auto-Partitioning, effectively reducing the workload of the whole proceed
2. Prototyping system supports high-capacity and cascading to avoid maintaining multiple clipped versions
Additionally, the prototyping system features scalability. Multiple daughter cards can be added and fixed to facilitate the movement of the whole system.
With the exponential growth of SoC design scale in recent years, the prototyping needs of chip design teams have become increasingly complex. Design teams need to have a mature software and hardware universal solution for high-density prototyping systems for large-scale SoC designs to break through key technology nodes. A mature enterprise-grade prototyping solution offers advantages over self-developed platforms.
How to choose an appropriate FPGA board?
There are many factors to consider when choosing the right FPGA prototyping board for you. Here are some significant hardware selection factors.
1. FPGA model and Specification
FPGA chips can be of different specifications and underlying processors. You should choose the appropriate chip specification according to your own specific needs. For example, newer FPGA models are more powerful and efficient, but also more expensive.
2. Interface and Scalability
You need consider whether standard interfaces are provided on the board, such as PCIe, USB, Ethernet, etc. At the same time, you also need to consider the scalability of the board, such as expandable IO interfaces, SDRAM, and other interfaces such as GPIOs.
3. Power Supply and Heat Dissipation
FPGA development boards need have a sufficient power supply and heat dissipation system to support the high-power consumption characteristics of FPGA chips.
4. Software Support
You need to choose a development board with comprehensive software support. For example, developers need a truly integrated development environment, debugging, and simulation software, as well as drivers and APIs to connect to the hardware.
Below are a few popular FPGA prototyping boards from Xilinx, customers can choose a prototyping system based on the following boards according to their needs(VU9P/VU13P/VU19P):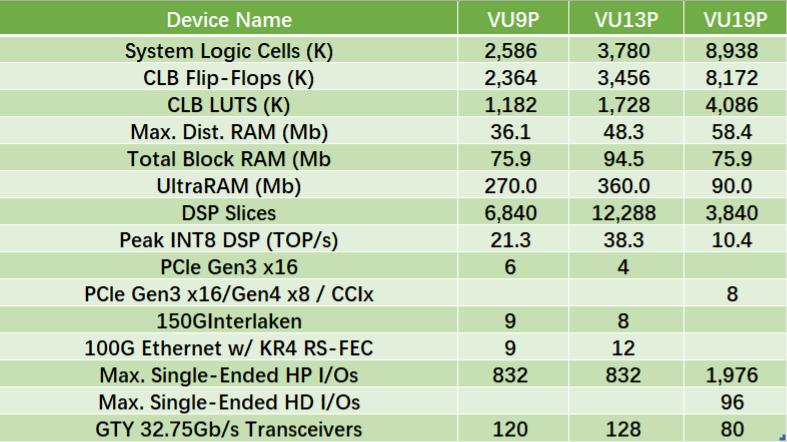 It is worth noting that, based on the common FPGA boards mentioned above, S2C, as a leading global supplier of FPGA prototyping solutions for today's innovative SoC and ASIC designs, is an ideal choice for most users.
With over 600 customers, including 6 of the world's top 10 semiconductor companies, S2C stands as a comprehensive expert for IC designers with a focus on ASIC prototyping. The Prodigy Logic Matrix, designed to support the integration of billions of ASIC gates for system expansion, offers high-density FPGA prototyping. On the other hand, the Prodigy Logic System provides an all-in-one design for rapid prototype development. For those seeking improved design efficiency, the Prodigy Logic Module is a good option with a low-profile design.
S2C also offers supplementary tools that enhance the functionality of the prototyping systems, resulting in a comprehensive prototyping solution. Prodigy Player Pro accelerates the development process by working with S2C FPGA-based prototypes. Prodigy Multi-Debug Module Pro offers a simultaneous debugging solution that spans multiple FPGAs. Prodigy ProtoBridge serves as a verification tool, connecting PC-based software to the FPGA-based prototyping environment. Additionally, Prodigy Prototype Ready IP refers to the daughter boards with ready-to-use interfaces and accessories, seamlessly integrating with Prodigy hardware. Complementing these offerings, Prodigy Neuro is a software that facilitates remote management of multiple prototypes located across diverse geographical sites. For more details, please contact with local sales representative or 'Request for Quote' directly.
In summary, FPGA prototyping facilitates the translation of ASIC designs into functional prototypes on FPGAs. These prototypes serve as powerful tools for verification, testing, debugging, performance analysis, and early validation, contributing to the success of the ASIC design before it progresses to the fabrication stage.